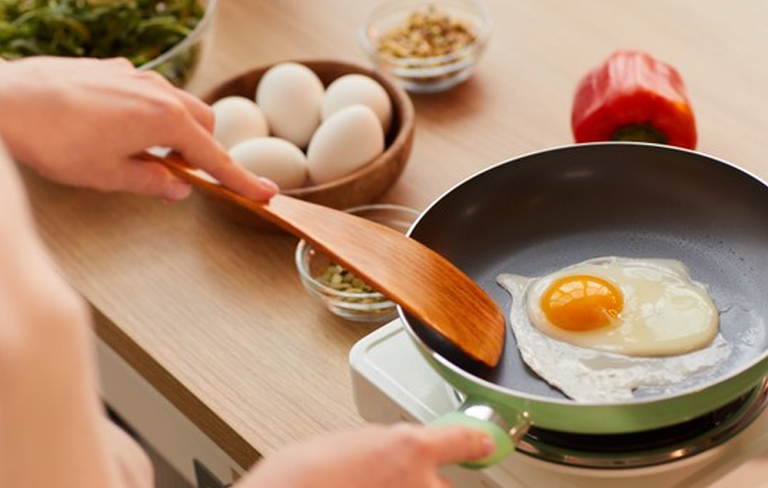 November 9, 2021
When you're in a hurry… Don't worry… Check out these quick egg ideas…

There are so many creative ways to cook eggs. One need not be an excellent cook to make a simple dish with eggs. In fact, eggs are the simplest to work with when you are just beginning to try your hand in the kitchen. You may be a student or a young working professional, you can still get some food on your plate if you have eggs in your kitchen.
Simple methods for the beginners:
Boiled eggs: The very basic way to have an egg is to simply boil them. Soft boiled eggs taste delicious on toast with a sprinkle of salt, pepper, and herbs. The hard boiled eggs can be tossed as a salad with mayonnaise and a dash of honey mustard or made into sandwiches. Get an electric boiler for a mess free experience.

Scrambled eggs and French toast: Beat the eggs with some milk, salt , pepper and a tea-spoon of sugar…now you have an egg mix ready… cook gently on a slow flame and enjoy soft and mushy scrambled eggs with bread of your choice or dip the slices of bread in the egg mix and shallow fry the same to create your own soft and tasty French toast.

Fried eggs: Just break an egg on the pan, toss some butter in and sprinkle some salt and pepper…don't flip if you like the egg sunny side up. Flip if you like your fried egg well cooked on both sides. Don't sweat if it gets messed up… Stir it up further and enjoy a bhurji instead! 

Egg bhurji and egg wraps: If you want to make real egg bhurji, saute some chopped green chillies, onions, spring onions, tomatoes, bell peppers, beat in your eggs into the pan, season with garam masala, salt, chilli powder and garnish with chopped coriander leaves. Enjoy with ready made hot tortillas or left over rotis from last night's dinner ! Or simply spread some sauces of your choice on the rotis /tortillas…tomato sauce, chilli sauce, mayonnaise, mustard, etc, put the bhurji and roll them up! Egg wraps couldn't taste better!

Omlettes: There are many ways to make an omlette as per personal choice… fluffy egg white omlettes, well done omlettes, healthy spinach omlettes, onion and green chillies spicy omlettes, spanish omlettes, etc. Just beat the eggs well with whatever ingredients you like and cook them gently on the pan. For egg white omlettes, carefully separate the yolks from the whites… this sounds difficult but believe me, with a little care, it works out just fine.
Now you know easy ways to cook up eggs without messing up. No matter what you choose to make, whether it's an egg bhurji, fried eggs, or scrambled eggs, it will leave you feeling happy and full for long. So, don't wait any longer and get started on these eggcellent ideas!